Welcome
We are excited to announce the arrival of our new Magic Selfie Mirror Photo Booth.
Our new Magic Selfie Mirror Photo Booth is a great alternative to the traditional Photo Booth, and  it is sure to have the WOW FACTOR. Our Magic Selfie Mirror Photo Booth is an elegant and fantastically fun way of making sure your occasion is remembered for years to come by you and your guests.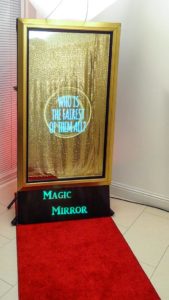 What is the Magic Selfie Mirror?
The Magic Selfie Mirror photo booth is a brand new unique photo-based experience that is perfect for any event!
Using a two-way mirror, the guest can see their reflection just like a normal mirror. The magic starts once the guest activates the mirror as it will then display customised messages, animations and calls to action to encourage guests to do crazy things and pose for photos! After the photos are taken, the magical mirror then prompts the guests to sign or leave a message on their photo, by simply signing the mirrors touch sensitive surface with just their finger.. These images are then instantly printed on one of our profession dye sublimation printers.
For more information on what a Magic Mirror Photo Booth does please use the following link YouTube